Let's face it, there are a gazillion different cases on the market. Plus a lot of gear comes with its own case and, if it didn't, it's easy to pick up something cheap that does the job. So, why buy Sort-It Cases, especially when you still have to supply your own milk crate?!

They're cool!
Every Sort-It Case comes in a flat box. It all goes together with hook and loop and then you put it in your own milk crate. And you can configure it however you like! Got some weird gizmo that you can't find a case for? We got you covered.

Space is a big deal
If you're like me, I have to pack a whack of gear into my vehicle. I work in the film business and my camera package is nine cases. NINE cases! I've got one for my wireless follow focus, one for my camera, a lens case… you get the idea. Plus I still have to pack other things like grip equipment and lights. Everything takes space and mine is limited. Putting all my stuff into Sort-It Cases means my gear is in uniform-sized cases so I don't waste space.

They stack
Everybody has milk crates because they hold anything and they stack. Own a rental company? You can stack them to the roof and you don't have to worry about them falling over unless you run into them, like maybe a skateboard trick gone wrong…

Organize your stuff
Admit it, you're tired of plucking those little squares out the foam padding in the cases you have. They're a pain in the butt and good luck if you wanna use the case for something else. Sort-It Cases are designed to be customized to fit exactly what you own. Most of the time you set the dividers in a BaseCase and use it that way for a very long time, but if you need to change things up a lot, the SwitchCases will hold up to the challenge. (only include this content once the SwitchCases are available).

Keep everything together
Nothing worse than some little screw rattles out during transport, falls out the bottom of a milk crate and gets lost. Now you're up the creek. Sort-It Cases have high-contrast, padded bottom inserts which means the odds of you not being able to find something just got pretty remote.

Divide and conquer!
We make over thirty five different dividers, because you just never know how big something is gonna be. Every case comes with at least one divider, and the big ones come with at least two. Once you figure out what you're gonna put in your case, pick up additional dividers as needed to keep things in their place.

Rain!
Sort-It Cases are not rainproof, but they are made with waterproof fabric so you really have to try hard to get things wet. If you want to protect yourself more, experiment with a bit of silicone on the seams. And if you're out in the elements a lot, the removable Rain Lid goes over the edges of the milk crate to give you even more protection. We're still experimenting on the design and don't have a release date, but we do know they will attach to those 2 strips of loop on the lid (yup, we're thinking ahead!).

Colours!
Yes, The Home Depot sells milk crates. They often have the small ones in stock and you can get bigger ones through their website. Awesome, but they only carry black. If black's your thing, great. If not, it's easy to find suppliers like Amazon that sell milk crates in colours. I currently have black, blue, red, orange, green and yellow cases, which makes keeping things easy to find. My camera stuff is in blue cases, batteries are in red, grip is in black, lights are in yellow… You get the idea.

Not all Milk Crates are the Same!
There are lots of cases similar to the North American standard for milk crates. Sort-It Cases are made to fit only two sizes of milk crates:
1' x 1' (12" length x 12" width x 10 1/2" height – inside dimensions)
1 1/2' x 1' (18" length x 12" width x 10 1/2" height – inside dimensions)
Make sure you have or can get the right size milk crates before ordering Sort-It Cases!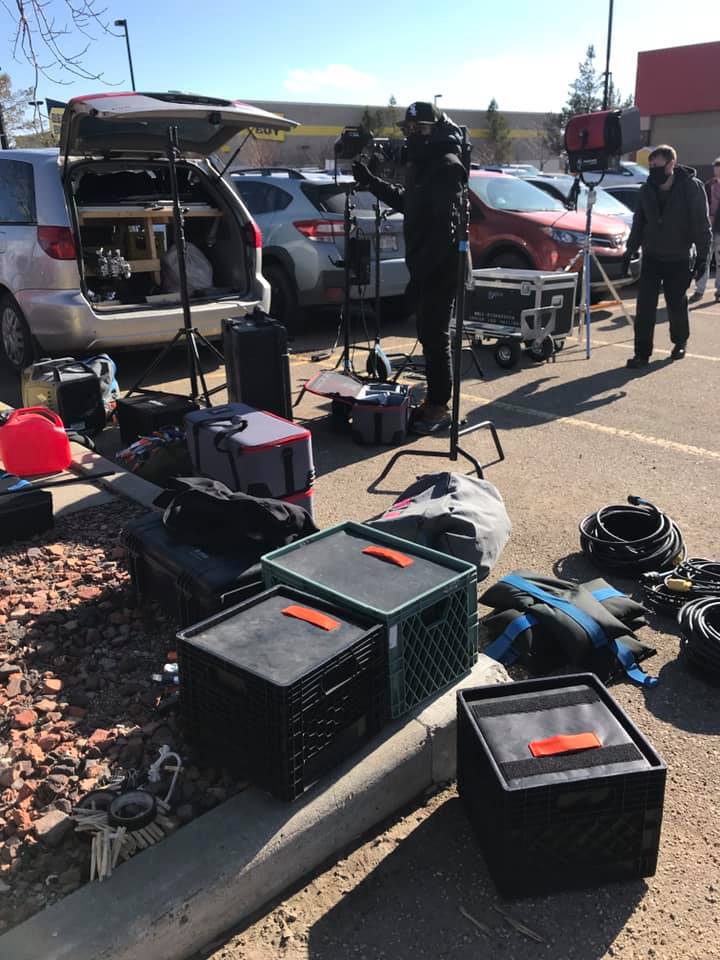 We know that making things by hand in Canada is not as cheap as getting it done overseas, but we would rather support our own economy. Is every seam perfect? No, because we make them by hand! Seriously, it adds to the charm.